Some day of this week I woke up in the middle of the night and just remembered something about yogurt. It was 6am so I went back to sleep. When I woke up I remembered the word "yogurt" and a dream about my co-workers.
It was saturday and normally the phone goes to voicemail in the weekends. Two of my colleagues were talking very cheerful when the phone rang, I knew it was not supposed to ring and that I could not pick it up but it rang and I answered 😑 and my co-workers didn't care about it. Stupid dream, I know.
This is the second time I dream about work, it means that I'm professional, mature and a dedicated person, but it also could mean that I'm insecure and not sure about something.
Back to the first dream, as the morning became afternoon I suddenly remembered why I thought about yogurt in the first place. Because I dreamed about it.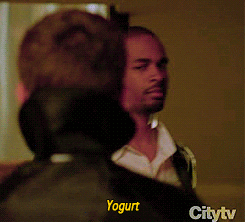 The thing is, I can't remember the dream, just the word.
Yogurt….yogurt….yogurt….
Meaning: apparently I'm trying to follow some patterns. Dreaming about yogurt symbolizes that I'm concerned about being the role model my family wants me to be because I want to please them.
I forgot to say that while I'm working I take a 5 minute break in the morning and in the afternoon to eat a yogurt.
So, bottom line is: I'm professional, mature and a dedicated person who eats lots of yogurt and wants to please her parents. Seems legit!!
Oh…my dreams 😍😍